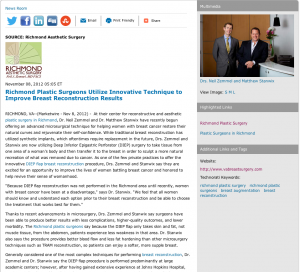 Richmond, VA – At their center for reconstructive and aesthetic plastic surgery in Richmond, Dr. Neil Zemmel and Dr. Matthew Stanwix have recently begun offering an advanced microsurgical technique for helping women with breast cancer restore their natural curves and rejuvenate their self-confidence. While traditional breast reconstruction has utilized synthetic implants, which oftentimes require replacement in the future, Drs. Zemmel and Stanwix are now utilizing Deep Inferior Epigastric Perforator (DIEP) surgery to take tissue from one area of a woman's body and then transfer it to the breast in order to sculpt a more natural recreation of what was removed due to cancer. As one of the few private practices to offer the innovative DIEP flap breast reconstruction procedure, Drs. Zemmel and Stanwix say they are excited for an opportunity to improve the lives of women battling breast cancer and honored to help revive their sense of womanhood.
"Because DIEP flap reconstruction was not performed in the Richmond area until recently, women with breast cancer have been at a disadvantage," says Dr. Stanwix. "We feel that all women should know and understand each option prior to their breast reconstruction and be able to choose the treatment that works best for them."
Thanks to recent advancements in microsurgery, Drs. Zemmel and Stanwix say surgeons have been able to produce better results with less complications, higher-quality outcomes, and lower morbidity. The Richmond plastic surgeons say because the DIEP flap only takes skin and fat, not muscle tissue, from the abdomen, patients experience less weakness in that area. Dr. Stanwix also says the procedure provides better blood flow and less fat hardening than other microsurgery techniques such as TRAM reconstruction, so patients can enjoy a softer, more supple breast.
Generally considered one of the most complex techniques for performing breast reconstruction, Dr. Zemmel and Dr. Stanwix say the DIEP flap procedure is performed predominantly at large academic centers; however, after having gained extensive experience at Johns Hopkins Hospital, Dr. Stanwix has been able to bring the treatment to St. Francis Hospital in Richmond. They say the difficulty and intricacies of microsurgery demand rigorous training, since many of the sutures and blood vessels involved in the procedure are smaller than a human hair. Drs. Zemmel and Stanwix say despite the complexity of the DIEP flap reconstruction, the reward is well worth the effort.
"DIEP surgery involves microsurgical skills and techniques that require extensive training over many cases," says Dr. Stanwix. "Knowing how to use the instruments, the microscope, suturing, and thousands of intricacies of microsurgery ensures we are able to consistently produce safe and effective outcomes. We are dedicated to being able to finally offer these procedures to the women who deserve them."
Dr. Zemmel and Dr. Stanwix say a typical patient will stay in the hospital for three to four days after surgery to recover, although it can take up to two weeks before patients feel like they have most of their energy back. They say physical therapy is an important part of any postoperative breast reconstruction course, and staying motivated is essential to a healthy result. As with any surgical procedure, whether it be an aesthetic breast lift or a breast reconstruction, Drs. Zemmel and Stanwix say they encourage all patients to consult with a board-certified, dedicated plastic surgeon so as to ensure their treatment is performed with precision as well as compassion.
"Being diagnosed with breast cancer is an extremely difficult time, and we understand how tough the decisions are that lay ahead of women," says Dr. Stanwix. "Our pledge has been to always listen, explain the various options, answer all questions, and ultimately allow the patient to decide which reconstruction is best for their body."
About Neil J. Zemmel, MD, FACS
Dr. Neil Zemmel graduated from the College of William and Mary, after which he earned his medical degree from the University of Virginia Medical School. He completed a combined six-year plastic surgery training program at the Virginia Commonwealth University Medical Center, where he served as Chief Resident of Plastic Surgery during his final year. Dr. Zemmel is board-certified by the American Board of Surgery and a member of the American Society of Plastic Surgeons. He also volunteers his time to local and international medical missions organizations such as Operations Kids, traveling to Guatemala to perform cleft lip, cleft palate, and burn reconstruction.
About Matthew G. Stanwix, MD

Dr. Matt Stanwix completed his surgical residency at the Johns Hopkins Hospital in the Department of Plastic and Reconstructive Surgery. He has performed extensive research in facial surgery and transplantation and published over twelve articles in internationally-recognized, peer-reviewed journals, in addition to authoring four book chapters and numerous presentations at national meetings. Dr. Stanwix also volunteers his time and skills on medical mission trips to help children who were born with facial deformities through the Vietnam-Changing Children's Lives program.
Located at 611 Watkins Centre Parkway Suite 350 in Midlothian, VA 23114, Richmond Aesthetic Surgery can be reached at (804) 423-2100. The practice can also be contacted online via the websites richmondplasticsurgery.com.com or facebook.com/drzemmel.