Vaginal Rejuvenation
What Is Vaginal Rejuvenation?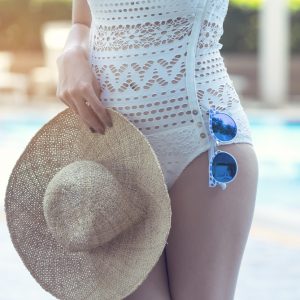 Vaginal rejuvenation is designed to help women improve a variety of cosmetic and functional concerns. Over time, the vaginal tissues gradually change due to factors like childbirth, weight fluctuations, menopause, the natural aging process, and genetics. Surgical and non-surgical vaginal rejuvenation can address a wide range of issues causing irritation, decreased sexual satisfaction, urinary incontinence, and more. In partnership with Dr. Neil J. Zemmel, Dr. Nathan Guerette—urogynecologist and pelvic reconstructive surgeon—performs a comprehensive array of treatments to improve vaginal health and restore patients' self-confidence.
Surgical Vaginal Rejuvenation Procedures
Labiaplasty
Labiaplasty, also known as labia minora reduction, is a popular procedure intended for patients with excess or uneven labia minora tissue. By employing a customized surgical technique, Dr. Guerette can help restore the balance between the labia minora and labia majora. He carefully contours this tissue to reduce discomfort while ensuring the final result aligns with the patient's expectations. By undergoing labiaplasty, patients can achieve better symmetry between the labial tissue, which contributes to improved function and self-esteem. Many women report their chronic symptoms no longer being a problem as well as having enhanced confidence during intimacy.
Labia Majora Reduction
Labia majora reduction (labia majoraplasty) improves symmetry between the labia by decreasing the size of the labia majora. This redundant tissue can cause irritation as well as create a prominent appearance to the intimate area when wearing form-fitting clothing, like yoga pants and swimwear. With meticulous surgical skill, Dr. Guerette reduces the labia majora and tightens the skin for a more balanced appearance.
Post-operative scarring is typically difficult to detect and well-concealed within the natural curves of the tissue.
Vaginal Tightening and Perineoplasty
Vaginal tightening (vaginoplasty) and perineoplasty can correct lax tissues and repair damage often caused during childbirth. These problems tend to worsen as time passes, affecting both function and appearance. The vaginal tightening procedure reconstructs the vaginal skin and connective tissue as well as the muscles around the vagina. Perineoplasty can be performed during the same procedure to repair the tissue between the vaginal opening and the anus, which can tear or be separated from an episiotomy. These surgeries can effectively improve sensitivity and restore function, enhancing sexual intimacy for both partners.
Clitoral Hood Reduction
Clitoral hood reduction addresses excess tissue located in front of the labia minora that covers the clitoris, also known as the clitoral hood. This problem often occurs when the labia is enlarged, since enlarged labial tissue typically causes the clitoral hood to appear more prominent as well. As a result, clitoral hood reduction is frequently combined with the labiaplasty procedure. During clitoral hood reduction surgery, the skin is reconstructed to improve the balance of the clitoral hood to the labia. Since this procedure often causes the clitoris to becomes more exposed, women tend to experience enhanced sensation during intimacy.
Hymen Repair Surgery
Hymen repair surgery (hymenoplasty) is performed to reconstruct a damaged hymen—the membrane covering the vaginal opening prior to sexual intercourse or, in some cases, the use of tampons or from vigorous exercise. Dr. Guerette utilizes advanced technique in hymen repair surgery to restore the membrane to being in its original form, while minimizing discomfort during recovery and producing a natural-looking outcome.
Liposuction of the Pubic Mound and Labia Majora
The pubic mound (area above the pubic bone) and labia majora are prone to accumulating fatty tissue, a concern that can be addressed with liposuction. By removing this unwanted fat, often with the ProLipo PLUS™ laser from Sciton®, Dr. Guerette can reduce a prominent appearance to the female genitalia, while ensuring patients have a short recovery.
Labial Puff
The labial puff procedure helps restore lost volume in the labia majora, which also effectively diminishes wrinkles. The natural aging process, childbirth, menopause, and significant weight loss can all lead to a loss of fullness and lax skin in this area. Dr. Guerette performs the labial puff procedure by either utilizing a dermal filler, such as JUVÉDERM®, or by grafting a patient's own fat, taken through liposuction (similar to the fat transfer for breast augmentation procedure). By restoring this natural fullness, patients can achieve a better balance between the labia majora and labia minora for a younger-looking appearance.
Non-surgical diVa® Vaginal Rejuvenation
diVa® Internal Laser Therapy
diVa® Laser Vaginal Therapy is a non-surgical procedure designed to rejuvenate the vaginal canal through Hybrid Fractional Laser technology. During the treatment, the automated laser system rotates through a single-use Strengthened Quartz Dilator, sending pulses of energy to resurface the tissue. This damage signals the body to heal itself, replacing the treated tissue with new, healthier tissue. The process takes about three to five minutes, and no anesthesia or downtime are typically needed since the treatment is non-invasive. However, sexual intimacy should be avoided for the first two days.
Most patients require about three diVa sessions to achieve optimal results, after which follow-up treatments can be scheduled.
diVa Tyte™
Often performed with diVa Laser Vaginal Therapy, the diVa Tyte™ treatment addresses the external tissue to improve loose skin. Similar to a labia majoraplasty, this non-surgical alternative sends light energy deep into the dermal layer of the outer vaginal tissue while a cooling mechanism shields the outer skin layer from being damaged. This 10- to 20-minute procedure effectively tightens and rejuvenates the external tissue as the body repairs itself. No downtime is typically needed.
Non-surgical Labiaplasty
For a non-surgical labia minoraplasty (labiaplasty), Dr. Guerette utilizes the Sciton ProFractional™ laser component of the diVa system. Over the course of approximately five minutes, the laser treats the skin and connective tissue of the labia minora, which leads to an improved shape and reduction of this tissue. About three to five treatments are typically needed to achieve the best outcome. Local anesthesia is provided to ensure patients remain comfortable throughout treatment.
Laser Bikini Hair Removal
With Forever Bare BroadBand Light (BBL™) technology, patients can undergo laser hair removal in their bikini area for long-lasting smoothness. Many women choose to undergo this treatment to complement another vaginal rejuvenation procedure. The Forever Bare BBL system sends multiple bursts of energy, as opposed to single bursts, gradually heating hair follicles to ensure even results. This laser hair removal system can be used on all types of skin up to type V.
For more information about surgical vaginal rejuvenation or our diVa system, please contact The Intimate Aesthetic Institute at Richmond Aesthetic Surgery to schedule an appointment. Some patients may wish to combine their vaginal rejuvenation with one or more other procedures in an overarching mommy makeover plan. During your consultation, a customized treatment plan will be created that can help you achieve your aesthetic goals.