About Allie Salisbury, PA-C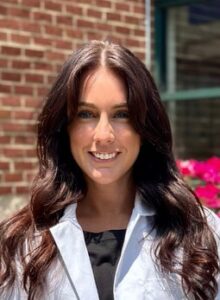 Board-certified surgical physician assistant Allie Salisbury, PA-C joined Richmond Aesthetic Surgery in 2023, bringing many years of experience and expertise in reconstructive surgery with her. Allie supports our board-certified plastic surgeons, Dr. Neil J. Zemmel and Dr. Karishma Reddy, with surgical cases and is dedicated to providing patients with clearly communicated surgical plans, counseling about their treatment, and compassionate care.
Allie moved to Richmond from New Jersey after graduating with a Bachelor of Science degree from Virginia Tech and completing her master's degree at Thomas Jefferson University in Philadelphia. Her background in surgical assistance began by working in a burn unit for several years to aid in reconstructive procedures and wound care. Since then, she has established a reputation for her warm bedside manner and takes pride in educating patients so they are knowledgeable and confident about their procedure. Allie is passionate about giving patients at Richmond Aesthetic Surgery an elevated level of care while achieving aesthetic goals that help them look and feel their best.