CoolSculpting®
What Is CoolSculpting®?


CoolSculpting® is a non-invasive method of reducing stubborn pockets of fat in problem areas of the body. The innovative CoolSculpting system utilizes a controlled cooling process, known as cryolipolysis, to damage fat cells without harming nearby tissue. After the unwanted fat is destroyed, the body gradually disposes of the damaged cells through natural metabolic processes. As a result, patients can see a more contoured and toned-looking physique.
Which Areas Are Treated with CoolSculpting?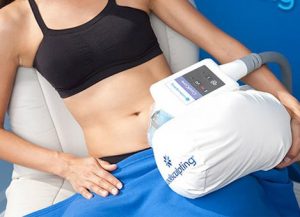 CoolSculpting is an FDA cleared fat reduction procedure that has shown to provide noticeable improvement in the following trouble areas:
Beneath the chin
Upper arms
Abdomen and flanks
Back, including deposits around the bra line
Thighs and beneath the buttocks
As a non-surgical alternative to liposuction, CoolSculpting can provide beautiful sculpting results. The treatment can also be performed as a complement to procedures like breast augmentation or mommy makeover surgery.
How Does the CoolSculpting Procedure Work?
After it has been determined that CoolSculpting is the most appropriate solution for your concerns, a treatment plan will be customized to your unique needs. Depending on the size and number of areas you would like to improve, one or multiple CoolSculpting sessions may be necessary. The details of your treatment will be explained to you during your consultation to ensure you know what to expect.

*Individual Results May Vary
To begin your CoolSculpting treatment, a gel pad and applicator will be placed on the targeted area. The applicator will then begin cooling the fat, which may cause an intense cold sensation for the first few minutes, but this gradually fades as the area goes numb within five to 10 minutes. As the treatment progresses, fat cells are gradually crystalized and damaged in the process. Once your session is complete, the device will be removed, and the frozen fat will be massaged for two to three minutes. As the tissue warms back up, you may feel a tingling sensation.

What Can I Expect in My CoolSculpting Recovery?
CoolSculpting requires no downtime after treatment, allowing patients to return to their normal activities immediately after their appointment. This includes returning to work, eating like normal, and even exercising. Approximately 10% of patients have mild pain after CoolSculpting, which should fade over the first couple days. Over-the-counter pain medication can be taken to help reduce any discomfort.
When Will I See My CoolSculpting Results?
Over the course of the next three weeks, the damaged fat cells will begin to be permanently eliminated from the body. The most noticeable results are typically seen at two months, though the fat can continue to be eliminated for up to four to six months. While these cells will not grow back, the remaining fat cells can change in size over time, which is why it is important to maintain a healthy, active lifestyle to prolong the effects of CoolSculpting.
Is CoolSculpting Safe?
CoolSculpting is considered a safe and effective treatment, receiving FDA clearance for fat reduction in a variety of body areas. Our team is trained in performing CoolSculpting, tailoring treatments for each patient and ensuring they remain as comfortable as possible.
Are There Any Side Effects Associated with CoolSculpting?
After the CoolSculpting procedure, temporary side effects may include redness, swelling, bruising, tenderness, and skin sensitivity. Any post-treatment concerns typically resolve within days or weeks. If you have any concerns, please don't hesitate to contact us. Your safety and wellbeing are our top priorities.
How Much Does CoolSculpting Cost?
CoolSculpting typically costs between $2,000-4,000, but the total amount you can expect to pay will ultimately depend on the specific areas you are having treated, the number of sessions you require, and your aesthetic goals. Prior to treatment, you will be provided with a personalized price quote, detailing the extent of your CoolSculpting cost. Should you have any questions or concerns regarding any part of your treatment plan, feel free to ask one of our plastic surgeons or another member of our staff.
Does Insurance Cover CoolSculpting?
CoolSculpting is typically not covered by most insurance providers, as it is cosmetic in nature and deemed an elective procedure. If you are interested in assistance with covering the cost of your treatment plan, our team accepts different payment options, as well as plastic surgery financing through low- to no-interest lenders like CareCredit®. If you would like more information about how financing can reduce your cost into smaller payments, a member of our staff would be happy to help.
CoolSculpting Patient Testimonials
What Are My Alternatives to CoolSculpting?
Although CoolSculpting can offer noticeable improvement for many patients, some individuals may achieve greater benefit from an alternative treatment. For patients with significant pockets of isolated fat, liposuction surgery may be recommended to provide a more dramatic reduction. Those who want to target their "double chin" specifically can learn about KYBELLA® injections, which work to break down fat and reduce submental fullness. The best way to learn about which alternatives can help you achieve your desired results is to schedule a consultation with a plastic surgeon.
Additional Frequently Asked Questions About CoolSculping
Does CoolSculpting Hurt?
Most patients report having no pain during their CoolSculpting session. Some individuals may experience some discomfort before the treatment area has gone numb, such as stinging and aching. Any pain you experience after treatment usually fades quickly. Pain medication can help minimize any discomfort you feel during the recovery process.
How Cold Does CoolSculpting Get?
CoolSculpting works through a controlled cooling process that includes a built-in safety setting, which automatically shuts the system off if it detects the area is nearing a dangerously low temperature. The technology is incredibly precise, reaching a temperature of approximately 12 degrees Fahrenheit (-11 degrees Celsius) to provide optimal fat crystallization.
As the targeted fat begins to freeze, your skin and surrounding tissues remain unharmed, as they crystallize at a much lower temperature compared to your fatty tissue. Due to the safety precautions in place during CoolSculpting, frostbite is not a concern, and our team will ensure you remain comfortable throughout the duration of your treatment.
Can CoolSculpting Help Me Lose Weight?
CoolSculpting is intended for reducing isolated deposits of fat located around the body. Since the technology only targets excess fat cells, the treatment should not be viewed as a weight loss procedure. For best results, patients should be at or near the goal weight before undergoing CoolSculpting.
Will CoolSculpting Get Rid of Cellulite?
CoolSculpting does not treat the uneven skin appearance caused by cellulite. Since the technology is designed to target and break down excess fat, it does not have any effect on the connective bands that pull down on the surface of the skin, which is what creates the characteristic dimpling of cellulite.
Does CoolSculpting Tighten Skin?
CoolSculpting is not an effective treatment for loose skin. The procedure is intended to reduce excess fat cells without affecting nearby tissues. As a result, those with already lax or redundant skin in the target area may be better candidates for a surgical procedure like tummy tuck or neck lift surgery. If you have undergone CoolSculpting and noticed your skin looks looser, your aesthetic professional can help you find a complementary procedure that may help tighten your skin.
Is DIY CoolSculpting Effective?
A do-it-yourself (DIY) version of CoolSculpting is not recommended due to concerns of safety and poor aesthetic results. The FDA-cleared CoolSculpting system suctions a section of fat and cools it just enough to damage the fat cells. With at-home versions of this process, the area is typically not suctioned for precise treatment, and safety protocols for temperature control are not in place. In most cases, DIY CoolSculpting cools an area with excess fat without achieving any change, or it freezes the skin and other tissue leaving burns. As a result, it is important that you seek CoolSculpting from a trained provider in a professional setting to ensure your safety and the best possible results.
How Can I Reduce Swelling After CoolSculpting?
Some degree of swelling is to be expected after CoolSculpting, as your body begins to process the damaged fat cells. While it is normal to feel some bloating during this time, you can help control any swelling by wearing a compression garment in the target area. Most of your swelling should subside within the first few days or weeks after treatment, though some may notice this side effect lasting for several weeks. Since it can be several months before you see your final results from CoolSculpting, remember to be patient during the recovery process as your body metabolizes the excess fat.
Is CoolSculpting Permanent?
CoolSculpting provides long-lasting fat reduction results. This is possible as it causes excess fat cells to break down, which are then gradually processed out of the body. While these fat cells cannot regenerate, the remaining cells in the area can change in size with weight fluctuations. As a result, the fat that is lost with CoolSculpting is considered permanently gone, but your contouring results can change according to your lifestyle. This is why our professionals recommend you follow a healthy diet and exercise regimen to maintain your more sculpted physique for the future.
If you would like additional information, please visit our website dedicated to CoolSculpting for Richmond-area patients.