Home
▸
Breast Augmentation
Breast Augmentation
What Is Breast Augmentation?
Breast augmentation is a cosmetic plastic surgery procedure that can enhance the size of the breasts, improve the shape of the breasts, and bring the breasts into proportion with the rest of the body. Over the last several decades breast augmentation has become one of the most popular procedures performed. In 2020 over 193,073 women underwent breast augmentation in the United States.
Breast augmentation has one of the highest satisfaction rates amongst all plastic surgery procedures with greater than 94% of patients reporting a highly satisfying result. These women report an increase in self-confidence and also note having an easier time finding clothing that fits their preference. Dr. Neil J. Zemmel and Dr. Karishma Reddy of Richmond Aesthetic Surgery in Short Pump, Virginia have extensive training in placing breast implants. Their goal is to provide their patients with the highest level of compassionate care and surgical expertise.
Am I a Good Candidate for Breast Augmentation Surgery?
Women seeking breast augmentation typically desire:
Increase in size of the breast
Improvement of shape of the breast
Lifting of the nipple and areolar higher on the chest
Improved appearance in clothing
Improvement in asymmetry
A balanced, natural look with the breast in harmony with the chest and lower torso
Women who are considering breast augmentation should be in good physical health with no major medical problems, should be non-smokers (or have quit smoking several weeks before surgery), and should be psychologically fit to undergo a change in body image. Women who are good candidates have reasonable expectations regarding what is possible and what is not possible with surgery. Dr. Zemmel and Dr. Reddy can give their patients a natural, proportional result while avoiding an "overdone" look.
Our website aims to give you a basic understanding of breast augmentation; It outlines who is a good candidate for breast implant surgery, the different techniques performed, and the expected results.
What Can I Expect During My Breast Augmentation Consultation?
Our plastic surgeons wish for their patients to be completely informed and at ease with their decision to undergo breast augmentation. They believe that open and honest communication between patient and physician is the key to successful doctor-patient relationships. Dr. Zemmel  and Dr. Reddy want you to be open and frank with them regarding your expectations and goals. They will be equally honest with you regarding your potential outcome and possible complications. You are welcome to bring your spouse, friend, significant other, partner, or family member to your consultation.
During your initial consultation, one of our plastic surgeons will evaluate your medical history and go over which procedure may be best for you. There are many factors that determine the surgical technique used. They include the shape and overall condition of your breasts, your skin tone, and the size of your chest wall and rib cage. If you have some sagging of the breast, Dr. Zemmel or Dr. Reddy may advise a breast lift as well as a breast implant. Our patients will leave the consultation with a complete understanding of the procedure, the recovery time involved, and the expected outcomes.
If you decide to proceed with surgery, your surgeon will see you again for a pre-operative appointment where they will discuss the entire procedure in detail and answer all of your questions and address your concerns. Dr. Zemmel and Dr. Reddy believe that the decision to undergo surgery is of paramount importance. You will be encouraged to carefully consider your options.
How Is the Breast Augmentation Procedure Performed?
With years of experience in breast implant surgery, Dr. Zemmel and Dr. Reddy have developed a systematic approach for their patients. Our surgeons will develop an individual treatment for each woman, taking into account her ultimate goals and desires. This includes an extensive interview process where patients discuss their wishes. They then perform a complete medical history and physical exam and take measurements of the breast and chest wall. Finally, patients will be fitted for a breast implant size that is proportional and in balance with their physiques. The foundation of Dr. Zemmel's and Dr. Reddy's approach is to provide a unique treatment for each individual patient's goals and needs. Patients will be given detailed instructions for how to prepare for breast augmentation surgery at the preoperative consultation.
During breast augmentation surgery, your surgeon will create a pocket within each breast to place the breast implants. The technique used to create this pocket will vary depending upon the type of breast implant as well as unique needs and cosmetic goals of the patient. Regardless of which incision type is chosen, Dr. Zemmel and Dr. Reddy use techniques that can minimize any visible scarring. Whenever possible, they perform breast augmentation utilizing a Keller Funnel, which is a cone-shaped surgical device that allows for no-touch breast implant placement. As a result, the implants can be inserted more easily and with less trauma to the area. Since no contact is made with the implant prior to placing it into the breast pocket, this has shown to reduce the risk of infection as well as biofilm—a colonizing bacteria believed to contribute to chronic wounds. In addition, by using the Keller Funnel method, our surgeons are able to further reduce the rate of capsular contracture among their patients.
Dr. Zemmel and Dr. Reddy perform all breast augmentations in the hospital setting. They believe this offers patients the highest level of safety, and should a rare complication occur, the hospital has numerous resources and all medical specialties available to utilize. A board-certified anesthesiologist will be present at all times to help you feel comfortable and monitor your safety. Many patients choose Richmond Aesthetic Surgery because of this unyielding dedication to their wellbeing and safety. The breast augmentation procedure can usually be completed within one hour.
What Is Breast Augmentation Recovery Like?
Tightness and soreness of the chest can be expected immediately following surgery, resembling the feeling many people experience after an intense upper body workout at the gym. Within five to seven days, this feeling should resolve. Oral pain medication can be used to easily manage any discomfort during this period. Fatigue is also common for the first day or two. Normal activity can be resumed within a few days of surgery, though patients should avoid lifting heavy objects or strenuous exercise for a couple of weeks. Your surgeon will also schedule follow-up appointments during the first week of recovery to make sure the healing process is free of complications. To protect yourself in the event of a rare complication, our practice offers CosmetAssure® cosmetic surgery insurance. Patients who choose to enroll in this program will receive coverage for the treatment of potential complications. More details about this insurance option will be discussed with you during your consultation.
What Will My Breast Augmentation Scars Look Like?
Scarring after breast augmentation will vary based on the patient and the surgical technique used. For example, a patient's age, skin tone, and incision location will all play a role in the final scar appearance. Breast implant placement may involve incisions under the breast crease (inframammary technique), beneath the areola (periareolar technique), or in the armpit (transaxillary approach). Depending on your individual needs and preferences, your surgeon may recommend one of these techniques and can help you understand what to expect with scarring.
Regardless of which placement option is chosen, Dr. Zemmel and Dr. Reddy will take great care to ensure a small incision line that can easily be covered by undergarments or swimwear as the lines fade over time. Scars can take up to a year to fully heal, over which time they should gradually lighten and fade.
What Risks Are Associated with Breast Augmentation?
As with any surgical procedure, there are certain risks associated with breast augmentation. This can include complications like bleeding and infection, though these are very uncommon, happening in less than 1% of patients. Dr. Zemmel and Dr. Reddy are proactive in reducing the risk of complications and perform all surgeries in the hospital setting. They work with board-certified anesthesiologists and board-certified nurse anesthetists. Patient safety is their top priority, and they will follow up with you after surgery to ensure a smooth and comfortable recovery.
A Real Patient's Experience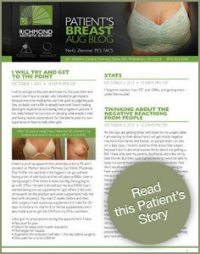 One of Dr. Zemmel's patients blogged through her entire breast augmentation journey. While each person's experience will be different, this gives prospective patients a firsthand account of the consultation process, selecting an implant, the day of surgery, the immediate post-operative period, and long-term recovery. She even includes photos that she took on a near-daily basis!
How Much Does Breast Augmentation Cost?
The average cost of breast augmentation in the Richmond area is $7,000-$9,000, which includes surgeon's fees. At the end of your consultation, you will be given a written quote for the cost of your custom-tailored procedure. This will include the surgeon's fees, the anesthesia fees, and operating room and implant costs. When comparing the cost of breast augmentation among potential plastic surgeons, Dr. Zemmel and Dr. Reddy recommend patients ask what is included in the quoted price. The experience of the breast surgeon as well as the geographic location of the practice can influence the total price of breast augmentation. For patients who could benefit from a monthly installment plan, we offer a number of flexible plastic surgery financing options for qualified applicants through CareCredit®.
I had the best experience with Dr Zemmel and his staff. They were very caring and reassuring thru out the whole procedure. Very through and very knowledgeable. They answered questions before I could ask them, which made me very comfortable and assured that I was getting the best care. My Breast Augmentation turned out better than I expected. I am very happy with the outcome. I highly recommend Dr. Zemmel and his caring staff.

Tj P

May 05, 2016

12345
Is It Possible to Get Breast Augmentation Without Surgery?
For patients who would prefer a more natural method of enhancing their breast size, fat transfer can be used to provide a subtle increase in breast volume. During this procedure, fat is harvested via liposuction from another area of the body, such as the abdomen or thighs, and then prepared and reinjected into the breasts to create a highly natural-looking breast enhancement. Breast augmentation with fat transfer is not appropriate for all patients, but it can be a beneficial alternative to implants for those wanting to increase their breasts approximately one cup size. Learn more about breast augmentation with fat transfer.
Additional Frequently Asked Questions About Breast Augmentation
What Kind of Post-Breast Augmentation Bra Will I Need?
In order to reduce the chance of complications such as misalignment, lymphedema, seromas, swelling, and discomfort, you will be given a post-surgical bra to wear as you recover. This bra is designed to provide proper support for your new implants and help you become accustomed to the way they feel. Your post-surgical bra will be soft, free of underwires, and made of a breathable fabric for your comfort.
The precise amount of time for you to wear this bra will depend on the size and type of implants placed, the techniques used during the procedure, and additional factors. That said, expect to wear the bra at all times for four weeks to three months following your augmentation. When the time comes for you to stop wearing the garment, Dr. Zemmel or Dr. Reddy can recommend another type of bra for you to wear.
How Soon Can I Exercise After Breast Augmentation?
Immediately following your surgery, it is important to get up and move around lightly; however, strenuous exercise should not be resumed until a few weeks have passed. Remember that strict adherence to your aftercare instructions can help preserve the results of your surgery and prevent issues from arising.
When Can I Have Sex Again After Breast Augmentation?
In general, you will be advised to refrain from having intercourse for roughly two weeks after your procedure. Depending on the particularities of your treatment and the amount of post-surgical discomfort you experience, you may be directed to wait up to six weeks.
Will I Be Able to Breastfeed After Breast Augmentation?
While most women with implants are able to breastfeed, please note that some women are naturally unable to breastfeed in the first place. Moreover, if you are interested in potentially nursing in the future, you should share this with your surgeon. Dr. Zemmel or Dr. Reddy can tailor the procedure to avoid the milk ducts to the best of their ability, which can reduce the chance of hindering one's natural ability to breastfeed after the placement of implants.