Home
▸
Breast Augmentation
Breast Augmentation
Breast Augmentation Surgery
Breast augmentation is a cosmetic plastic surgery procedure that enhances the shape and size of a woman's breast. Over the last several decades breast augmentation has become one of the most popular procedures performed. In 2008 over 350,000 women underwent breast augmentation in the United States.
Women seeking breast augmentation typically desire:
Increase in size of the breast
Improvement of shape of the breast
Lifting of the nipple and areolar higher on the chest
Improved appearance in clothing
Improvement in asymmetry
A balanced, natural look with the breast in harmony with the chest and lower torso.
Breast augmentation has one of the highest satisfaction rates amongst all plastic surgery procedures with greater than 94% of patients reporting a highly satisfying result. These women report increase in self-confidence. These women also noted an easier time finding clothing that fit to their preference.
Dr. Neil J. Zemmel of Richmond Aesthetic Surgery in Short Pump, Virginia has extensive training in breast augmentation. Dr. Zemmel's goal is to provide his patients with the highest level of compassionate care and surgical expertise. Dr. Zemmel's goal is to give his patients a natural, proportional result while avoiding an "overdone" look.
With years of experience in breast implant surgery, Dr. Zemmel has developed a systematic approach for his patients. Dr. Zemmel will develop an individual treatment for each woman taking into account her ultimate goals and desires. This includes an extensive interview process where patients discuss their wishes. He then performs a complete medical history and physical exam and takes measurements of the breast and chest wall. Finally patients will be fitted for an implant proportional and in balanced with their physiques. The foundation of Dr. Zemmel's approach is to provide a unique treatment for each individual patient's goals and needs.
Dr. Zemmel's website aims to give you a basic understanding of breast augmentation; It outlines who is a good candidate for breast implant surgery, the different techniques performed, and the expected results.
During the initial consultation, the entire procedure will be discussed in great detail. Dr. Zemmel's patients will leave the consultation with a complete understanding of the procedure, the recovery time involved, and the expected outcomes. Dr. Zemmel wishes for his patients to be completely informed and at ease with their decision to undergo breast augmentation.
At the end of your consultation with Dr. Zemmel, you will be given a written quote for the cost of the procedure. This will include the surgeon's fees, the anesthesia fees, and operating room and implant costs. Dr. Zemmel believes that the decision to undergo surgery is of paramount importance. You will be encouraged to carefully consider your options. If you decide to proceed with surgery, Dr. Zemmel will see you again for a pre-operative appointment where he will discuss the entire procedure in detail and answer all of your questions and address your concerns. You are also encouraged to bring your spouse, friend, significant other, partner, or family member to your consultation.
A Real Patient's Experience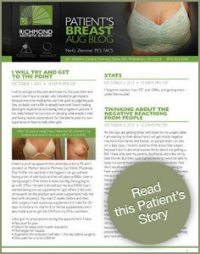 One of Dr. Zemmel's patients blogged through her entire breast augmentation journey. While each person's experience will be different, this gives prospective patients a first hand account of the consultation process, selecting an implant, the day of surgery, the immediate post operative period, and long term recovery. She even includes photos that she took on a near daily basis!
Candidates For Breast Implant Surgery
The goal for breast implant surgery is to increase the size of the breast, improve shape, and bring the breast into proportion with the rest of the body. Women who are considering breast augmentation should be in good physical health with no major medical problems, should be non-smokers (or have quit smoking several weeks before surgery), and should be psychologically fit to undergo a change in body image. Women who are good candidates have reasonable expectations regarding what is possible and what is not possible with surgery.
I had the best experience with Dr Zemmel and his staff. They were very caring and reassuring thru out the whole procedure. Very through and very knowledgeable. They answered questions before I could ask them, which made me very comfortable and assured that I was getting the best care. My Breast Augmentation turned out better than I expected. I am very happy with the outcome. I highly recommend Dr. Zemmel and his caring staff.

Tj P

May 05, 2016

12345
Your Consultation
During your initial consultation, Dr. Zemmel will evaluate your medical history and go over which procedure may be best for you. There are many factors that determine the surgical technique used. They include the shape and overall condition of you breasts, your skin tone, and the size of your chest wall and rib cage. If you have some sagging of the breast, Dr. Zemmel may advise a breast lift as well as a breast implant.
Dr. Zemmel wants you to be open and frank with him regarding your expectation and goals. Dr. Zemmel will be equally honest with you regarding your potential outcome and possible complications.
Dr. Zemmel believes that open and honest communication between patient and physician is the key to successful doctor patient relationships.