Breast Reduction
What Is Breast Reduction Surgery?
Breast reduction surgery, also known as reduction mammoplasty, is a plastic surgery procedure designed to reduce the size of the breasts while providing a cosmetic pleasing size and shape. Both men and women seek breast reduction surgery for a number of reasons.
For women excessively large breasts may cause symptoms of back pain, shoulder pain, and neck pain, as well as bra strap grooving and skin irritation. Teenage women may feel self conscious and socially inhibited by their unusually large breasts. Some women may feel the need to hide the size of their breasts and may choose clothing to hide their appearance. Some women are prevented from participating in exercise or are physically inactive due to the large size of their breasts. Breast reduction surgery may also be performed solely for cosmetic reasons for women who desire a smaller, more proportioned breast, or a breast lift.
Men typically seek breast reduction surgery for a condition known as gynecomastia, which is enlargement of the breasts in males. This can occur due to hormonal abnormalities or with massive weight gain. Those desiring male breast reduction surgery typically desire a more contoured, male appearing chest and pectoral area.
Optimal Candidates For Breast Reduction Surgery
Breast Reduction surgery is performed for both relief of physical symptoms and for cosmetic improvement of the breasts. The procedure is designed to remove excess breast tissue, excess skin, and raise the nipple and areola. Many women have tried to relieve their symptoms with over the counter medications or physical therapy. When these non-surgical methods fail to provide relief surgical treatment may be necessary. Common symptoms prompting breast reduction surgery include:
Breast pain
Long term back, neck, or shoulder pain
Shoulder grooving and skin irritation caused by bra straps
Skin rashes under the breasts
Numbness of the upper extremities
Poor posture
Headaches
Weight gain due to the inability to participate in exercise
Undesired attention
Difficulty in finding proper fitting clothes or bras
Candidates for breast reduction surgery should also have a thorough understanding of the procedure as well as realistic expectations. Candidates must be relatively healthy and mentally fit for the operation.
What Can I Expect in My Breast Reduction Consultation?
Dr. Neil J. Zemmel or Dr. Karishma Reddy will see you in consultation for an initial evaluation. They will assess your goals and desires. Our surgeons believe safety is the number one priority, and each patient will undergo a complete history and physical before surgery. They will discuss your symptoms due to large breasts as well as review your medical history and any medications you may take.
Your surgeon will then perform a physical examination and take measurements of the breast that will include:
Your initial bra cup size
Your height and weight
The size of your rib cage
The overall shape of the breasts
The strength and elasticity of the skin
The shape and size of your areola and nipple
Based on their findings, your surgeon will then recommend a procedure to fit your needs and desires. The different techniques recommended are based on how much excess skin and breast need to be removed.
AWESOME WORK. LOVE DR ZEMMEL..WOULD RECOMMEND TO EVERYONE. STAFF WAS GREAT. NO QUESTION ABOUT IT. I WENT IN FOR A BREAST REDUCTION AND MY RESULTS ARE AMAZING, WILL GO BACK IF ANYTHING FURTHER I WANT TO DO. LOVE THEM!

Chimere Hendrickson

November 20, 2013

12345
Vertical Breast Reduction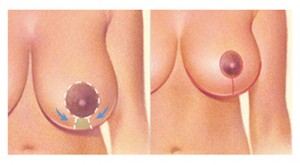 If a moderate level of skin and breast tissue needs to be removed, then a vertical breast reduction may be performed. This technique uses an incision around the areola and nipple and down the center of the breast, taking a "lollipop" shape.
Wise Pattern Breast Reduction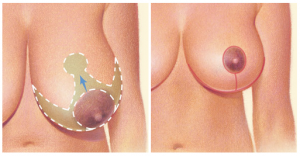 If a large amount of skin and breast need to be removed, then an inferior pedicle Wise pattern breast reduction may be offered. This procedure uses and incision around the nipple and areola, an incision down the center of the breast, as well as a horizontal incision under the breast fold. The final incision takes the shape of an "anchor."
Liposuction Breast Reduction
Liposuction breast reduction is used in women and men with breasts that are not as large and do not require a removal of large amounts of skin. Patients who are a higher risk for anesthesia also may be candidates. The result is not as dramatic as other excisional techniques, but it liposuction gives a much quicker healing time and little scarring. This is a technique typically used in conjunction with some direct excision of dense tissue for male gynecomastia surgery.
Risks of Breast Reduction Surgery
Breast reduction surgery is a complex procedure that has inherent risks. When performed by a qualified Plastic Surgeon it is usually safe. However, all surgical procedures are subject to complications including but not limited to infection, excessive scarring, and bleeding. Other rare complications occurring with breast reduction surgery include loss of nipple sensation, skin and nipple-areola loss, asymmetry, inability to breast, hypertrophic scarring, and breast tissue necrosis.
Your surgeon will discuss the entire procedure in great detail during your consultations. Please write down any questions you may have and they will be happy to answer them for you.
Recovery After Surgery
Dr. Zemmel and Dr. Reddy typically admit their breast reduction patients overnight in the hospital. You will be able to rest comfortably in the hospital overnight. This allows the patient to have IV pain medicines and medication for nausea if needed. Your surgeon will then see you the following morning and discharge you. A follow up appointment is made 1 week later.
Most patients experience some pain after surgery. The discomfort is typically soreness and tightness and is easily controlled with pain medicine by mouth. After 1 week the swelling begins to resolve and you can perform your activities of daily living. Your surgeon will assess your progress and increase your activity level gradually over the next 2 to 3 weeks. Normal physical activity resumes in 3 to 4 weeks.
What Will My Breast Reduction Scars Look Like?
Scarring from breast reduction surgery will gradually fade over the course of the first year. The location of the scars will depend on which surgical technique was used to remove the excess tissue. Your surgeon will explain what you can expect based on your personalized treatment plan. Following your procedure, they will advise you on proper wound care to ensure you experience minimal scarring after the initial healing period. In addition to these instructions, you should refrain from smoking and avoid sun exposure to the incisions, as these can both make scar appearance worse.
While breast reduction scars cannot be completely avoided, Dr. Zemmel  and Dr. Reddy make incisions in areas that can easily be concealed by clothing. Patients typically report that their post-operative scarring is worth the improvement they receive from undergoing reduction surgery. Should you wish to reduce your scar appearance, laser scar treatment can help smooth and lighten the incisions.
How Much Does Breast Reduction Cost?
The cost of breast reduction surgery at Richmond Aesthetic Surgery is typically between $10,000 and $12,000. Multiple factors will affect your final cost, including the surgical technique used and complexity of your procedure. Additional fees related to your anesthesia, hospital facility, and post-surgery garments will also contribute to your breast reduction cost. At the end of your consultation, our staff will provide you with a cost quote based on the specifics of your surgical plan. We can also help you determine if your insurance will offer coverage for the cost of your procedure. For additional assistance, we offer breast surgery financing options with little to no interest payment plans.
Insurance Coverage
Most major health insurance carriers cover breast reduction surgery (reduction mammoplasty) when the procedure is intended for medical reasons. However, breast reduction is typically deemed cosmetic in nature until it is proven to be medically necessary for treating enlarged breasts. You will most likely need to prove that you have a history of seeking treatment for your medical symptoms, such as back pain, skin irritation, or numbness. It can be helpful to get a letter from other doctors that you have worked with to find relief from your symptoms. This may include a primary care physician, physical therapist, chiropractor, and/or dermatologist. Furthermore, the amount of tissue needing to be removed must meet certain criteria for each insurance carrier.
The majority of breast reduction candidates can qualify for insurance coverage, but there are various requirements in place before this is possible.
The process of being pre-authorized for insurance coverage for your breast reduction can take about 3 to 6 months on average. It is never too early to work with health professionals to determine if non-surgical treatment options can relieve your symptoms. Your surgeon will assist you in obtaining insurance pre-authorization if you are a good candidate for a medically necessary breast reduction. Keep in mind that the requirements for coverage will differ with every insurance company, and at this time Richmond Aesthetic Surgery only accepts Anthem / Blue Cross Blue Shield. You should contact your provider to ask for the established criteria to qualify for coverage. If you are ultimately denied coverage but feel the surgery is necessary for your daily living, you can send an appeal—the process of which should be explained on your denial letter.
Learn more about breast reduction insurance coverage.
If you would like more in-depth information, please visit our breast reduction surgery website dedicated to this procedure, or contact us to schedule your consultation.