Home
▸
Breast Lift with Implants
Breast Lift with Implants
What Is a Breast Lift with Implants?
Breast augmentation is for women who desire larger, shapelier breasts and is designed to increase breast volume. Breast lift surgery is for those whose breasts have begun to droop or sag and is designed to eliminate excess skin to reposition the breasts. For patients who desire both augmentation with breast implants and a breast lift, the procedures can be combined to rejuvenate the appearance of their breasts by enhancing their size, shape, and position on the chest wall. Using the breast lift with implants technique, Dr. Neil Zemmel and Dr. Karishma Reddy have helped many women achieve beautiful, youthful, natural-looking results.
Am I Good Candidate for a Breast Lift with Implants?
Generally speaking, candidates for a breast lift with implants seek many of the following cosmetic improvements:
Elevate breasts to a more youthful position
Restore lost breast volume
Increase the size of the breasts
Enhance the shape of the breasts
Achieve better symmetry
Change the size and/or location of the nipple-areola complex
Many candidates for a breast augmentation with lift are mothers who have experienced changes to the appearance of their breasts after pregnancy and breastfeeding. In some cases, these women select a breast lift with implants as part of a mommy makeover. Patients who have achieved significant weight loss may also benefit greatly from this procedure. The best way to determine if you are a good candidate for a breast lift with implants is to schedule a consultation with an experienced plastic surgeon.
What Can I Expect During My Breast Lift with Implants Consultation?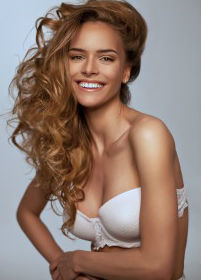 Dr. Zemmel and Dr. Reddy meet with patients at least twice before surgery to fully prepare them for what to expect during breast lift and augmentation surgery. They will conduct a thorough medical examination, obtain the patient's measurements, and go over the entire procedure in detail. Our surgeons will discuss with the patient her individual goals and desires. They will find out the size of the breasts that she is interested in and how high she would like them elevated. Dr. Zemmel or Dr. Reddy will also plan with the patient the location of the incisions, the placement of the nipple and areola, and the shape and texture of the implants.
Our surgeons will offer their professional opinion on the implants that they feel are most appropriate for the patient's body type and will provide her with a balanced, natural look.
During the consultation with our plastic surgeon, the type of breast lift technique that is to be performed will also be determined. There are four different techniques that are available. The type of technique that is used depends upon the amount of stretched skin the patient has and the amount of breast tissue that is to be lifted. The costs, risks, and recovery period following surgery will also be discussed.
Different implants will be available during the consultation for the patient to "try on" by placing them in her bra.
What Does the Breast Lift with Implants Procedure Involve?
Once general anesthesia has been used to put the patient in a sleep-like state, your surgeon will make the incisions in the pre-determined location. Excess skin and tissue will be removed, and the nipple and areola will be moved to a higher location on the breast. The breast implants will be placed and the remaining skin will be drawn taut over the swell of the breast to complete the procedure.
What Risks Are Associated with the Breast Lift with Implants?
All surgical procedures have some level of inherent risk. But when performed by a qualified plastic surgeon, the risks associated with combining breast lift and breast augmentation surgeries are minimized. Dr. Neil Zemmel has completed six years of plastic and general surgery training in addition to his medical education at the University of Virginia. Dr. Zemmel and Dr. Reddy have also undergone a rigorous evaluation process to become board certified by the American Board of Plastic Surgery, the only plastic surgery board recognized by the American Board of Medical Specialties. All treatments are performed in accredited surgical facilities with an accredited anesthesiologist.
Patients should also be aware that although Dr. Zemmel and Dr. Reddy are skilled at placing incisions to minimize the appearance of scars, some scarring after breast lift and breast augmentation surgery is inevitable. These scars can usually be placed so that they will be concealed by bathing suits or lingerie.
How Long Is the Recovery from a Breast Lift with Implants?
Recovery from breast lift and breast augmentation surgery usually takes several weeks. Patients may feel some mild discomfort in the first few days after surgery. These symptoms can usually be relieved with pain medications prescribed by your surgeon. Complete instructions will be provided for patients to follow to ensure that they heal as quickly and smoothly as possible. Your surgeon will call you the night of your procedure to make sure that you are feeling okay, and a follow-up appointment is always scheduled for a few days after your surgery. Most patients can return to work within one to two weeks, but strenuous activities should be avoided for about a month.
How Much Does a Breast Lift with Implants Cost?
Cost for a breast lift with implants can range anywhere from $12,000-$15,000 depending on need for a full or partial lift. Based upon your personal goals, our surgeons will design a surgical plan and price the procedure accordingly. There are a number of variables that can affect the total price of breast augmentation with a lift, including the type of implants, implant placement, incision type, amount of excess tissue removed, and the overall complexity of the procedure.
Patients who are comparing the cost of a breast lift with implants among various plastic surgeons should keep in mind that the experience of the surgeon as well as the geographic location of the practice can impact the price. Be sure to ask your plastic surgeon if the price you are quoted includes all associated fees, such as the surgical facility fee and the anesthesiologist fee. Many of our patients who could benefit from flexible payment plans take advantage of our plastic surgery financing options.
For more information about breast lift with implants, please contact Richmond Aesthetic Surgery and schedule a consultation with one of our plastic surgeons.