Mommy Makeover
There are few events in life as rewarding and as gratifying as building a family. For mothers, however, having one or more children can cause significant changes to the body. These changes occur for a number of reasons that are natural side effects of pregnancy and birth. Hormones, weight gain, fluid retention, weight loss, gravity, and breastfeeding can all cause changes to the body. Most women experience one or more of the following after pregnancy, childbirth, and breastfeeding:
Sagging and deflation of the breasts
Enlargement of the nipple and areola
Excess skin and stretch marks of the abdominal wall
Fatty deposits around the waist, flanks, and thighs
Muscle laxity of the abdominal wall (rectus diastasis)
Changes to the belly button
Facial wrinkling and aging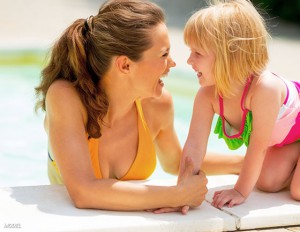 Dr. Neil J. Zemmel has been dedicated to helping mothers achieve their pre-pregnancy bodies since 2004. At his practice, Richmond Aesthetic Surgery, he and Dr. Karishma Reddy are pleased to offer a number of solutions to these problems. Women may be comforted in knowing that it is now possible to turn back the clock on these physical changes with the mommy makeover.
What Is a Mommy Makeover?
A mommy makeover involves a combination of procedures that target areas like the breast, abdomen, flanks, and thighs to bring you back to your youthful, pre-pregnancy state. Dr. Zemmel and Dr. Reddy believe the mommy makeover is part cosmetic surgery and part reconstructive surgery. They strive to provide the most natural and proportional results while avoiding an "overdone" look. This comprehensive treatment plan can include procedures like breast lift surgery, tummy tuck surgery, liposuction, and more.
What Does a Mommy Makeover Consist Of?
Since every mommy makeover is tailored to the patient's specific goals and desires, the treatment plan may look different from one mother to the next. During your consultation, your surgeon will listen to your concerns and perform a physical exam to determine the areas that can be enhanced with surgery. Based on this information, they will work with you to create a custom mommy makeover plan that can help you achieve your desired results.
Dr. Zemmel and his staff are awesome! I had liposuction of the abdomen and flanks and a breast reduction. I am so pleased with the results. I feel better and look better. I am only in to my 7th week of healing and I have already dropped 2 sizes in my clothes. What a feeling!!! I would strongly recommend Dr. Zemmel to anyone wanting to have 'body work' done. He is awesome.. The whole staff here is wonderful. They make you feel welcome and they truly care. I am looking forward to my new look.

Reece H

September 20, 2013

12345
Rejuvenation of the Breast
After pregnancy and breastfeeding, many women are sad to lose the fullness achieved during pregnancy. They may be left with breasts that they do not recognize. These changes can include loss of volume and sagging of the breasts, enlargement of the areola, and downward pointing of the nipples. A number of options exist for rejuvenating the breasts. They include breast augmentation with saline or silicone implants, breast lifting, and a combination of breast lifting with implants.
The ultimate goal of these procedures is to restore volume, shape, and contour to breasts and place the nipple in the most aesthetic location.
A breast implant may be necessary to restore lost volume of the breast when tissue has atrophied. Oftentimes the breast has simply "deflated." If there is not too much excess skin and the nipple is located in the proper position on the breast, a breast implant may be all that is needed. However, if the nipple is faced downward and the breast is located low on the chest, a breast lift may be necessary. This will reposition the breasts and nipple-areola higher on the chest wall. If a mother wants a larger breast size, however, implants are necessary. Dr. Zemmel and Dr. Reddy offer both silicone and saline implants depending on the patient's desires and the soft tissue characteristics of the breast and chest wall. For patients preferring silicone, new generations of cohesive gel implants are now approved by the FDA. Patients rave about the natural look and feel of these silicone implants.
Did You Know? After pregnancy, childbirth, and breast feeding, a mom's fatty tissue can redistribute to different areas of the body even if she has not gained weight.
Rejuvenation of the Abdomen, Trunk, and Legs
After the breasts are rejuvenated, mothers may next notice that their abdomen is fuller and laxer than it used to be. This "pouch" may be a combination of excess skin, fat, stretch marks, and a distorted belly button. Exercise is always important to maintain overall health, muscle tone, and muscle mass. However, in many cases it may be impossible to improve the lower abdomen with exercise alone. Excess skin containing stretch marks typically does not respond to exercise and must be surgically treated. A tummy tuck procedure is the most common solution for these mothers once they are finished having a family. A tummy tuck removes excess, lax skin from the lower abdomen, tightens the muscles of the abdominal wall, and brings the belly button out through a new opening. Dr. Zemmel's and Dr. Reddy's patients typically enjoy a remarkable return of their flat, tight, pre-pregnancy abdomen.
For women wanting to improve the look and function of their vaginal area following childbirth, a vaginal rejuvenation procedure may be beneficial. This usually entails tightening of the internal tissue. A perineoplasty is also commonly performed, which can repair the tissue between the vaginal opening and the anus if it has stretched or torn during childbirth. Through these procedures, women can tighten lax tissues and repair damage for long-term improvement.
Rejuvenation of the Face
Depending on your goals, a top-to-bottom mommy makeover would end with the face. Years of sleepless nights may hasten the aging around the eyes and cause drooping of the upper eyelids and forehead. Your friends may wonder if you are getting enough sleep even when you feel rested. Fortunately there are effective procedures for rejuvenating the eyes. They range from minimally invasive treatments such as BOTOX® Cosmetic and JUVÉDERM® injections, to surgical procedures including eyelid lifts (blepharoplasty) and brow lifting. BOTOX injections may be used to soften the "crow's feet" or the frown lines that are early signs of aging. It may also be used to raise the eyebrows giving a brow lift, which opens the eyes. BOTOX can also be used to soften lipstick lines. Treatment with BOTOX Cosmetic takes only minutes and the results last for months. When a person experiences the benefits of BOTOX injections, they frequently comment that they're surprised how easy it is to take years off of their appearance. Surgery on the eyelids (blepharoplasty) requires a 5- to 7-day recovery, but the improvements are permanent and substantial. When patients have hooding of the upper eyelids or bags under their eyes, they are typically good candidates for eyelid surgery. The scars are minimal and patients may return to work within a few days of surgery. For many women cosmetic surgery is a well-deserved reward after the emotional and physical challenges of motherhood.
Dr. Zemmel's and Dr. Reddy's Mommy Makeover goal is to restore you to your former pre-pregnancy figure.
Rejuvenation of the Skin
The mommy makeover is not limited to surgical procedures—we are very proud to offer our mommies a full range of laser treatments and the ZO® Skin Health line. Laser treatments can be very effective in diminishing post-baby C-section scarring, removing noticeable leg veins, regrettable sun damage, and that tattoo that you just don't want to explain to a three year old. All laser treatments are performed by Dr. Zemmel, and Dr. Reddy, or our board-certified physician's assistant, Megan Goff.
The ZO Skin Health line can help you retain or restore that youthful pregnancy glow. ZO Skin Health products primarily address your concerns regarding sun damage, skin discoloration, fine lines and wrinkles, acne, and rosacea. The ZO Skin Health is a medical skin care line that is not available in stores. Everyone in the office, even Dr. Zemmel and Dr. Reddy, is using a combination of ZO Skin Health products that best suits our individual needs. So if you have any questions or are just curious about the results, don't hesitate to contact us.
How Should I Prepare for My Mommy Makeover?
Preparing for mommy makeover surgery can help to ensure a smoother, more comfortable recovery. At least 6 weeks before your scheduled surgery, it is important that you cease smoking and tobacco use, as this can impair healing. You should also avoid any blood-thinning medications or supplements approximately 2 weeks before surgery, such as aspirin or vitamin E. Before the day of surgery, you should fill your prescriptions, stock your pantry with nutritious foods, and ensure your home is set up in a way that will allow you to relax. Arranging for help with childcare for the first couple weeks is also important for helping you not exert yourself too much. More details about how you should prepare for your unique combination of cosmetic surgeries will be discussed with you before your procedure.
What Is Recovery After a Mommy Makeover Like?
Due to the unique nature of the mommy makeover treatment plan, recovery will vary based on the specific procedures involved and the number of operations performed. For most mommy makeovers, patients can expect some degree of soreness, swelling, and bruising at the surgical areas. Your surgeon may recommend special compression garments to promote healing and reduce swelling. In addition to allowing yourself adequate rest, oral pain medication can be taken to help manage any discomfort you experience throughout your recovery.
To help make your recovery as easy as possible, Dr. Zemmel and Dr. Reddy advise that patients arrange for help around the house and with young children as they begin to heal. You should avoid strenuous exercise or lifting heavy objects for about six weeks, depending on the procedures you undergo. More personal information about your recovery, including detailed post-operative instructions, will be communicated with you prior to your procedure so you can make the necessary arrangements.
What Will My Mommy Makeover Scars Look Like?
As with any surgical procedure, mommy makeover surgeries will result in some degree of scarring. Dr. Zemmel and Dr. Reddy take great care to place incisions in natural creases and other areas that are easy to conceal. The location of mommy makeover scars will ultimately depend on the types of procedures being performed and the specific incision techniques used. Patients will be given detailed post-operative care instructions that cover wound care. At first scars may appear red and raised, but they should gradually lighten, soften, and become flatter over time as the body heals. Laser treatments can often be used to further minimize any residual scarring.
How Much Does a Mommy Makeover Cost?
The mommy makeover procedure can range anywhere from $25,000 to $30,000 for most patients. The cost will ultimately depend on which procedures are performed and the complexity of these surgeries. In addition, the expertise of your plastic surgeon, location of the practice, and any related fees will affect the total amount you can expect to pay. When you come in for your consultation, our team can provide you with a cost quote based on your customized treatment plan. Should you be interested in plastic surgery financing, we would be happy to help you navigate your options.
Additional FAQs About the Mommy Makeover
When Is the Best Time for a Mommy Makeover?
Ideal timing for a mommy makeover will depend on multiple factors that vary for each individual. Dr. Zemmel and Dr. Reddy typically recommend patients wait at least six months after giving birth to undergo their procedure(s). Doing so allows the body enough time to recover and return to its natural weight. Mothers can choose to undergo their mommy makeover at this time, or they can wait several years down the road, if they desire. As long as they have recovered from pregnancy and breastfeeding, they can often be considered a good candidate.
Dr. Zemmel and Dr. Reddy also advise patients to wait until they have completed their families before undergoing their mommy makeover. While the different procedures should not affect a woman's ability to become pregnant in the future, having more children can compromise their surgical results, creating the need for a follow-up surgery.
What Age Is Too Old for a Mommy Makeover?
There is no maximum age that a woman needs to be under in order to undergo mommy makeover surgery. Candidacy depends more on their eligibility for the procedure. For instance, your goals and general health will factor into whether you will be recommended mommy makeover procedures. Patients even into their 60s and older can get plastic surgery procedures to address changes caused by pregnancy and childbirth decades prior. The only way to determine if you are a good candidate will be to schedule a consultation with one of our board-certified plastic surgeons.
Will Insurance Cover My Mommy Makeover?
Insurance providers typically do not offer coverage for the mommy makeover. Common procedures like liposuction, tummy tucks, and breast lifts are not considered medically necessary and, therefore, are not covered. However, if you have breast reduction surgery, this can sometimes be deemed a necessary solution for chronic medical issues and be eligible for insurance coverage.
Will My Mommy Makeover Procedures Need to Be Done Separately?
In many cases, patients can undergo their mommy makeover procedures within one operation, which can be more convenient and cost-effective. However, depending on the types of procedures you need and the extent of your surgical plan, it is possible you may need your mommy makeover separated into multiple operations. If this is recommended, it is likely to minimize your risk of unnecessary complications.
When Can I Drive After My Mommy Makeover?
Depending on the specific procedures included in your mommy makeover, you will most likely not be able to drive for several days after surgery. Most patients can typically return to driving after about 7 to 10 days, but it is a good idea to bring someone with you the first time, in case you do not feel well. If you are on narcotic pain medications, you will not be able to drive until you have stopped taking them. Our team will provide you with a more realistic timeline of what you can expect.
How Long Until Swelling is Gone After Mommy Makeover?
Swelling is a normal part of the recovery from a mommy makeover. The most significant swelling you experience should subside after about one week, and most of your remaining swelling should fade over the course of two to three months. Some residual swelling can last six months to a year after surgery. To help control swelling, you may want to sleep in an elevated position, and you should wear the recommended post-operative compression garments.
How Soon Can I Exercise After My Mommy Makeover?
Light exercise can help facilitate healing after your mommy makeover, but you should make sure not to overdo it as your body is recovering. Pay attention to how you feel, and if you think you are ready, start with light walking and gradually incorporate other activities. Patients often feel comfortable enough to briskly walk and ride a stationary bike after one week, and six weeks after surgery, many women start lifting light weights. You should avoid exerting yourself too much with strenuous exercises, like sit-ups and jogging, until you are approximately eight weeks into your recovery.
How Soon Can I Have Sex After Mommy Makeover Surgery?
Resuming sexual activity with your partner after mommy makeover surgery will be different for every patient, but in general, Dr. Zemmel and Dr. Reddy recommend waiting at least 2 to 3 weeks, if not longer. Those who undergo tummy tuck surgery as part of their procedure may need to wait an additional two weeks. These limitations are designed to ensure your body has enough time to heal and minimize your risk of incision problems or other complications. Your surgeon will provide you with more details about your recovery before your surgery, such as when you can resume physical activity and intimacy.
For more information about the mommy makeover process, or if you would like to set up a consultation with Dr. Zemmel or Dr. Reddy to learn which procedures can help you achieve your aesthetic goals, please contact Richmond Aesthetic Surgery today.