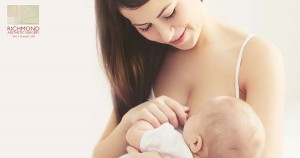 Many breast augmentation patients at Richmond Aesthetic Surgery are curious how breast implants might affect their ability to breastfeed should they become pregnant in the future. Dr. Neil J. Zemmel is happy to inform these women that, in the vast majority of cases, breast implants should not affect breastfeeding, as long as they seek an experienced, board-certified plastic surgeon. About 15% of women in the general population naturally have some difficulty nursing. The breast augmentation procedure may slightly increase the risks another 10 or 15%. Dr. Zemmel uses techniques that preserve as much of the ductal and breast tissue as possible to ensure that your risk of not being able to breast feed is minimized.
Since both pregnancy and breastfeeding create significant changes in the body, our plastic surgeons also caution that the appearance of the breasts can change as a result. If you have undergone breast augmentation or breast lift surgery and noticed a change in the appearance of your breasts after a pregnancy and breastfeeding, breast revision surgery may be used to improve the shape and position of the breasts.
If you have any questions or wish to learn more about our breast procedure, please feel free to contact us.