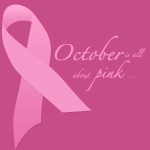 As the month draws to a close I wanted to take the time to again remind you how important this topic is in all our lives.
Breast Cancer Prevention starts with you.
Do your self-exams, get your annual mammograms, and encourage the women in your life to do the same.
I found a few facts on: http://www.breastcancerpreventionfund.org/
1 in 8 women will get breast cancer.
Every 3 minutes an American is diagnosed with breast cancer.
Breast cancer is the leading cause of death for women age 35 to 50.
With early diagnosis, the 5-year survival rate is over 90%.
Every 12 minutes a woman dies from breast cancer; many because the breast cancer was not detected in time.
Support research locally or nationally by contributing your time to walking for the cure, or volunteer at an event. Educate yourself and others and ultimately don't stop thinking about breast cancer just because October is over.
Richmond Aesthetic Surgery participates as an office in many events and fundraisers—and nothing feels better to us than walking right alongside the patients who feel that we have made a difference in their lives. Breast reconstruction after mastectomy is an important and personal decision. Each person has their own goals and desires for the outcome of their reconstruction, and Dr. Zemmel is here to help accomplish those goals. Whether you are planning a mastectomy, or had one in the past, call us to set up an appointment to meet Dr. Zemmel and learn more about your reconstruction options.
If you or someone you know is considering reconstruction, please visit our breast reconstruction page to learn about the different types of reconstruction offered here at Richmond Aesthetic Surgery, as well as our insurance page to understand your rights as a patient.