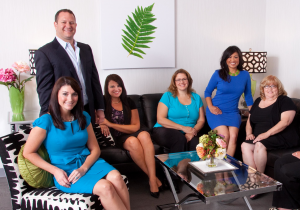 Our board-certified plastic surgeon, Dr. Neil J. Zemmel, oversees an experienced team of professionals who are dedicated to helping you attain your breast enhancement goals. Our entire staff looks forward to answering any questions you may have, and helping to make your experience with Richmond Aesthetic Surgery as comfortable and convenient as possible.
Please take a moment to familiarize yourself with some of the faces you'll see here at our practice, and feel free to contact us for more information.
Business Manager
Our Business Manager, Donna Demore, has more than 25 years of business and management experience. She joined our practice in May, 2011 and has worked solely in insurance and medical billing for the last 10 years. Donna uses her extensive experience to assist our patients with their insurance coverage and answers any questions they may have.
A California native, Donna moved to Richmond in 2011 along with her husband of 27 years. She enjoys spending time with her granddaughter, daughter-in-law and stepson.
Front Desk Manager/Patient Coordinator
Our Front Desk Manager and Patient Coordinator, Becky Carpenter, joined our staff in December 2011. She earned a Bachelor of Science in Communications from James Madison University and brings over five years of customer service experience to Richmond Aesthetic Surgery.
Becky's professional and friendly attitude helps our practice provide the highest quality patient care and healthcare services, and her assistance is a large part of what keeps our practice running smoothly. A native of Spotsylvania, VA, Becky enjoys spending time with her family, her golden retriever and her soon-to-be husband.
Practice Manager/Patient Counselor
Our Practice Manager and Patient Counselor, Sreyon Bujtas, brings over 10 years of experience in medical billing and 15 years of customer service experience to our staff. She joined our practice in January 2011 and uses her considerable organizational skills to handle the day-to-day operations of an extremely busy practice.
By serving as a liaison between our patients and doctors, Sreyon is able to provide patients with a welcoming experience at Richmond Aesthetic Surgery. Her friendly and caring demeanor helps our patients feel right at home.
A native of Richmond, VA, Sreyon has been married for five years and has a two-year-old son. In her spare time, she enjoys trying out new restaurants and expanding her passion for culinary arts.
Master Esthetician/Skin Care Professional
Our Master Esthetician, Brenda Clymer, is an extensively-trained and certified skin care professional. She began her esthetician training in 2005 and earned her Master Estheticians license in 2008. Her caring and nurturing demeanor helps our patients feel at ease during their skin care treatments.
Brenda has received recognition for her expertise with Obagi® and Skinceuticals skin care products. She is always eager to stay up-to-date with new skin care techniques, and pursues continuing education to provide patients with the latest advances in skin care and the best possible results.
Brenda performs a variety of skin care treatments, including microdermabrasion, facials and chemical peels. She can effectively refresh and rejuvenate your skin to help you feel more confident about the way you look.
A former high school teacher and social worker, Brenda is a native of West Virginia and has been married to her husband for 26 years. She is also the mother of two teenage boys, and currently lives in the West End.
Contact Richmond Aesthetic Surgery
If you have questions about our procedures and treatment options, or if you would like to schedule a consultation here at Richmond Aesthetic Surgery, please contact us today.
Directions to Our Office
Dr. Zemmel is proud to provide his plastic surgery services to patients traveling from nearby cities. For your convenience, we have provided driving directions to our practice from the following locations: