Obagi Professional-C Serum
Vitamin C is well known for helping with your immune system and wound healing.  There are many foods such as tomatoes, oranges, sweet potatoes, strawberries, and other fruits as well as a daily vitamin that you can find to help with your daily intake.  You may not know this, but vitamin C is also great for your skin!  Not only does it promote healthy tissue strength and collagen growth, it protects your skin from free radicals that cause premature aging.  Don't rush off and start mashing up those foods and spreading it all over your face just yet!  There isn't enough vitamin C there to do anything, but make a mess.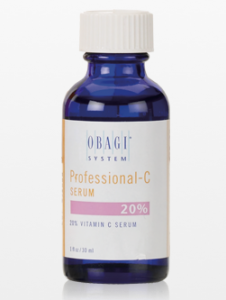 Obagi Professional-C Serums use advanced scientific formulas to neutralize free radicals such as damaging sun rays and environmental conditions, before they can damage skin cells and accelerate aging.  Obagi uses stabilized L-ascorbic acid, the only form of Vitamin C that can be effectively absorbed by the skin.  L-ascorbic acid is essential for cross-linking collagen molecules which builds collagen.  Obagi Professional-C Serums delivery system and unique formula results in greater penetration to all layers of the skin and greater stability, providing maximum daily antioxidant protection.
The benefits of Obagi Professional-C Serums:
Helps maintain normal cellular turnover
Builds collagen
Lightens and brightens skin
Reduces inflammation
Decreases transepidermal water loss
Protection from future damage
Obagi Professional-C Serums offers 4 concentrations:
Professional-C Serum 20%
Professional-C Serum 15%
Professional-C Serum 10%
Professional-C Serum 5%
Call our office today for a consultation to determine which one is right for you!
(804) 423-2100