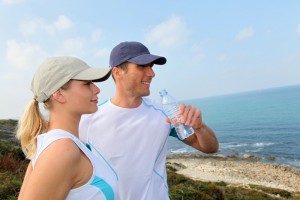 In honor of Skin Cancer Awareness Month, we wanted to provide you with some helpful prevention tips.  Protection from UV rays is important all year round, not just during the summer months.  Though they are strongest during late spring and early summer, UV rays can harm you on cloudy and hazy days, as well as, bright and sunny days.  Therefore, we recommend some easy options for additional protection:
seek shade, especially during midday hours (10am-4pm)
wear clothing to protect exposed skin
wear a wide brim hat to shade your face, head, ears, and neck
wear sunglasses that block as close to 100% of both UVA and UVB rays
use sunscreen with SPF 15 or higher, and protects from both UVA and UVB rays
avoid indoor tanning
Sunscreens wear off, so remember to reapply every 2 hours, and after swimming or activities that cause you to sweat.  Some make-ups contain the same chemicals found in sunscreen, but usually not enough to provide adequate protection.  And like everything else, sunscreens have a shelf life too.  Check the expiration date.  They are usually good for about 1-3 years.
*Stock Up and Save ~ 10% Off all Sunscreens*
Offer ends May 31st
Contact our office to take advantage of our sunscreen offer and to learn more about skin cancer prevention and treatment.